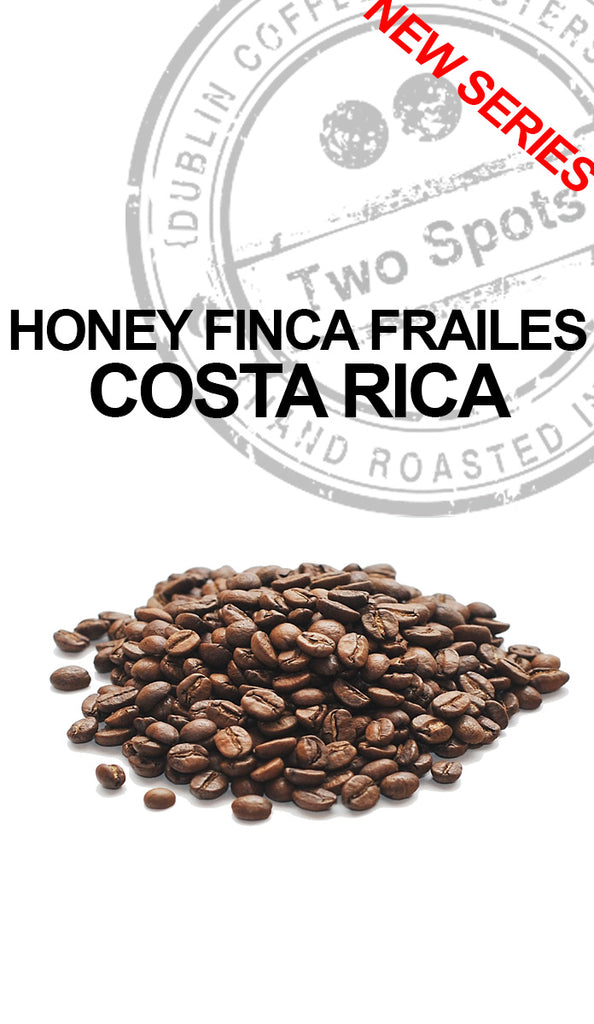 HONEY FINCA FRAILES - COSTA RICA
Cup Profile: Bright acidity, Medium body, Black berry stone fruit flavours with a dark chocolate finish.
Location: Los Santos Frailes
Farm: Finca Frailes
Production (60kg): Total = 200.  Milled at Palmichal Micro - Mill = 100
Altitude: 1500 - 1600 masl
Variety: Caturra
Process: Honey
Roast profile: City+ (for information on the different roasts click here)


This coffee comes from the region of Los Santos Frailes and is grown on the farm Finca Frailes produced by Gerardo Calvo, Zaira Marin & William Mendez. The farm was first planted more than 30 years ago. These lifelong farmers of second and third generation have produced an excellent coffee within one of Costa Rica's finest regions for growing coffees.
This coffee is processed at the Palmichal Micro Mill which is owned and operated by CECA, a company of the Neumann Kaffee Group. It is located in the Costa Rican Tarrazu Valley region. They focus on bringing out the best characteristics by specifying which is the most ideal process for each different surrounding farmers.
In this case the Frailes is honey processed. A process different from natural or washed, whereby some of the mucilage of the coffee cherry remains on the bean while drying resulting in a unique different flavour from the other processes. In most cases a sweeter more chocolate flavour is given sometimes similar to that of honey, hence the name Honey process. Curious well try it out.... buy a bag of this delicious high quality coffee yourself and see! We assure you that you won't Bee disappointed.