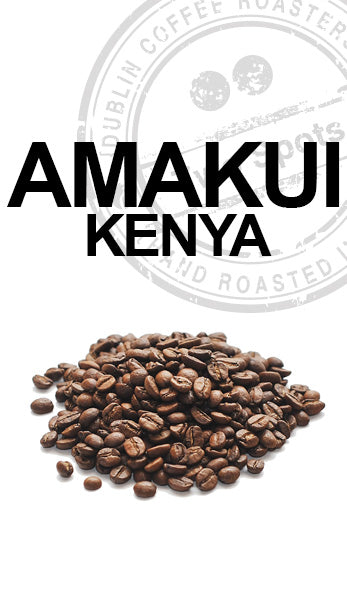 AMAKUI - KENYA
Cup Profile: Bright acidity, rich body,berries & lemon flavours
Location: Central & Kandara District
Farm: Amakui Co-operation
Environment: Deep red volcanic soil with temperatures of 17-26 degrees
Altitude: 1600 - 1800 masl
Variety: SL28, SL34, some Ruiru 11 & Batian
Process: Washed and sun dried
Roast profile: City+

This amazing coffee from central Kenya comes from the AMAKUI Farmer's Co-operative located in Kandara of Murang'a County. The Co-op has 5 wet mills namely Muruka main, Naaro, Rianguru, Nguthuru and Riakibunga wetmills.
 The process involves the farmers selectively hand picking red ripe cherries which are delivered for wet milling the same day. Cherry sorting is carried out at the wet mill prior to pulping. The red ripe cherries are separated from the underipes, overipes and foreign matter.
 Processing utilizes clean river water (wet processing) that is re-circulated before disposal into seepage pits. The parchment is then fermented, washed and sun dried.
 With this high quality Kenyan the most notable flavour is a mandarin citrus flavour. This is followed by hints of sweet caramel and honey which allows for the refreshing acidity of the fruit flavours to linger on the palate for a wonderful aftertaste. We our sure that this Kenyan will be drank to the last drop while trying to identify all of these beautiful flavours it brings. Enjoy :)